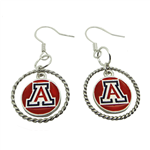 We are excited for summer, which is already in full swing. For those of you still in Tucson, you know exactly how hot its been! 
Who would have thought that 99 degrees was a 'cooler' day?!
This summer, LaDiva Sport is looking for the summer fashions that keep you cool and looking stylish, even with temperatures reaching over 100 everyday. We found Rochelle Reuter, an up and coming senior at the University of Arizona and active member/participant in ZonaZoo all year.
Rochelle is staying cool in a sweet Arizona tank top, with the help of a few added rhinestones to bring in that extra sparkle. The navy blue racer back allows her to soak up the sun, but she knows how important the sunscreen is! (Check out her LaDiva Sport Sparkly Wildcat Body Tattoo!!)
She stays stylish in some gray flip flops that also have some added bling to bring out the sparkle in her shirt and avoid the 'sock tan'! Completing the outfit with a pair of shorts, Rochelle is beating the heat and staying stylish this summer!
Rochelle tells us her favorite LaDiva Sport product is the new UA Earrings with the Block A in the middle because  
" They are perfect for any U of A sporting event and will match any U of A apparel!"
Thank you Rochelle for sharing with us your favorite summer styles! Stay cool!
Aug 08, 2017

Category:

News
Comments: 0